You can learn more about each shipping method by clicking here!
The delivery time for Surface Parcel is 4 to 7 months, but may take longer. Please understand that this method is best if you are not in a hurry. Shipping via Surface Parcel is best for when you aren't worried about your item boxes being in perfect condition, are looking to save some money, and you don't mind waiting awhile.
You can view Japan Post's official delivery time information here.
Once your package has left our warehouse with Japan Post, you will receive an email titled "Shipping Notice" with your tracking information enclosed. You can also check your tracking number at this site.
"Dispatch from outward office of exchange" means your package left from Kanagawa on an outward bound ship that day. If it has been a long time since your tracking has updated, don't worry! While in transit from port to port, there is no update on the status of the package.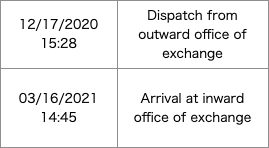 Your tracking will update once your order has reached a port in your country.
If your package has still not arrived to you in 5 months, please feel free to contact HLJ Customer Support.