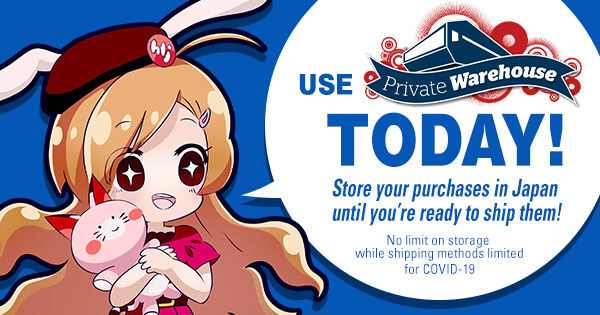 In short: We are here to help! Don't worry about our normal 60-day limit, we will hold on to your items for you for as long as it takes. Find out more below.
Due to the ongoing Coronavirus pandemic, we are making some changes to how our Private Warehouse will be working for the coming months. If you would like more information on our operations regarding the current situation, please visit our FAQ.
For those unaware of our Private Warehouse, here's how it works:
Items that are sent to your Private Warehouse can be held there for up to 60 days, during which you are able to create a shipment for any number of items in your Private Warehouse, even if they were released at different times. Once the 60-day clock runs out, shipment of any paid items in Private Warehouse for longer than 60 days is an automated process.
However, in light of recent events, there has been a shift in the operations of our shipping partners.
The Japan Post has announced that they will be temporarily suspending the acceptance and delivery of certain delivery methods for mail items destined to some countries and territories, along with expectations of considerable delivery delays for outbound items to most countries due to the global reduction of flights. For more information, please visit the Japan Post Website.
Federal Express has announced a temporary stoppage of all FedEx Economy packages. Please visit our Help Center for more information. FedEx Priority is now in operation, and can be used as an alternative.
As a result of less shipping options available, we have decided to make the following temporary change to how your Private Warehouse will be working in the short-term as we continue to respond and adapt to the constantly changing situation.
Automatic shipping of items that have exceeded the 60-day clock will be temporarily stopped.
Our website will still show the normal countdown, and you may still receive warning emails, although the actual automated process itself will be stopped and you can ignore these messages.
These are strictly temporary measures, and once things go back to normal we will provide you with ample warning prior to resuming the automated shipping process.
Please don't hesitate to reach out to us if you have any queries, as we are more than happy to help accommodate your individual situation.
We hope that our fellow hobbyists stay safe during these unsettling times, and ask that you follow the suggestions, rules and regulations put forth by your local authorities.