First, please be sure to read our Terms & Conditions of use. By placing an order with us, you are agreeing to these terms -- so it's important to understand our policies before you order.
All orders must be placed through our website, https://hlj.com. We cannot accept orders by email, postal mail, social media, or fax.
When you're ready, click the Add to Cart button next to an item you want to buy. When you  finish shopping, open your Cart.
1. View your shopping cart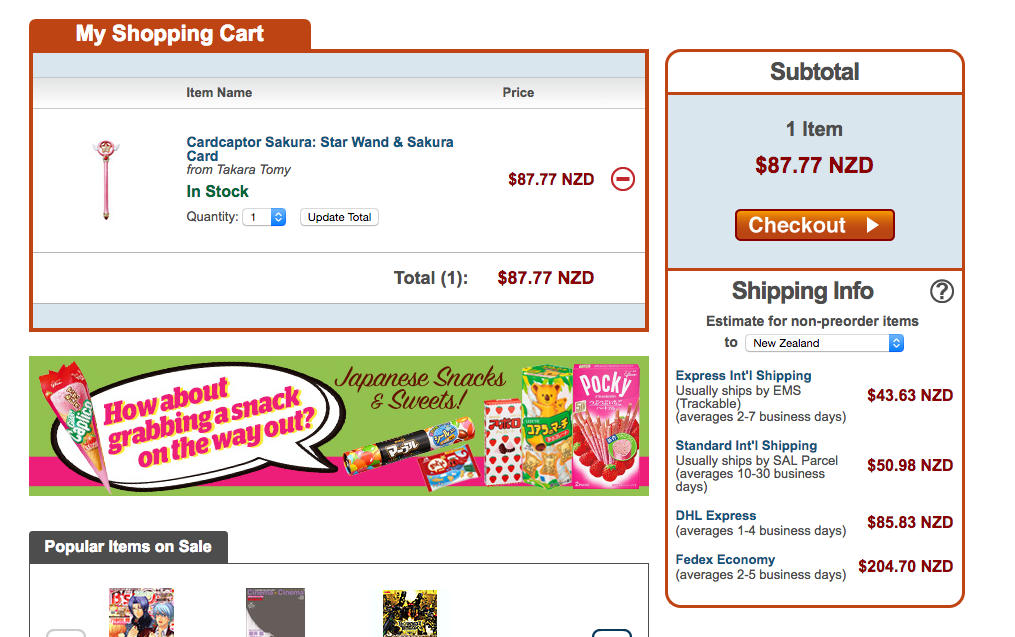 Here, you can make quantity changes to your items, remove items, and view shipping estimates. When you're ready to check out, click the orange Checkout button on the right.
2. Sign in or create a new account
Here you will find login options for existing customers and new customers. If you already have an HLJ account, just enter your email address and password. If you are a new customer, click the orange Continue button to create an account with us.
All orders must be placed through a registered customer account. We currently do not offer a guest checkout or alternate login options (Google, Facebook, etc.).
3.  Create an account (new customers) or confirm your account details (existing customers)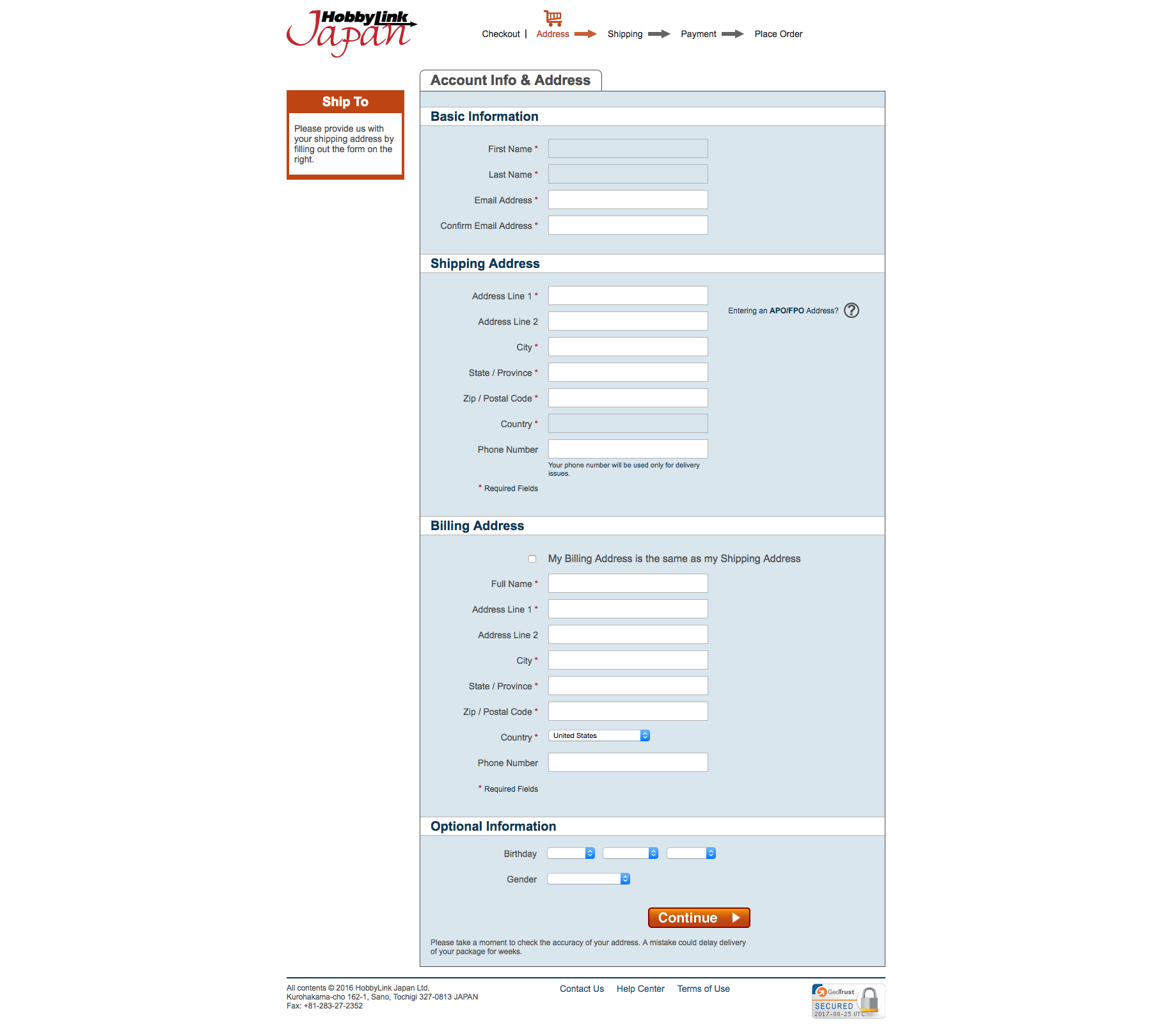 If you already have an account with us, please double-check your account details here.
If you are a new customer, you will need to fill in the form provided to continue with the checkout. After you complete the form, click Continue.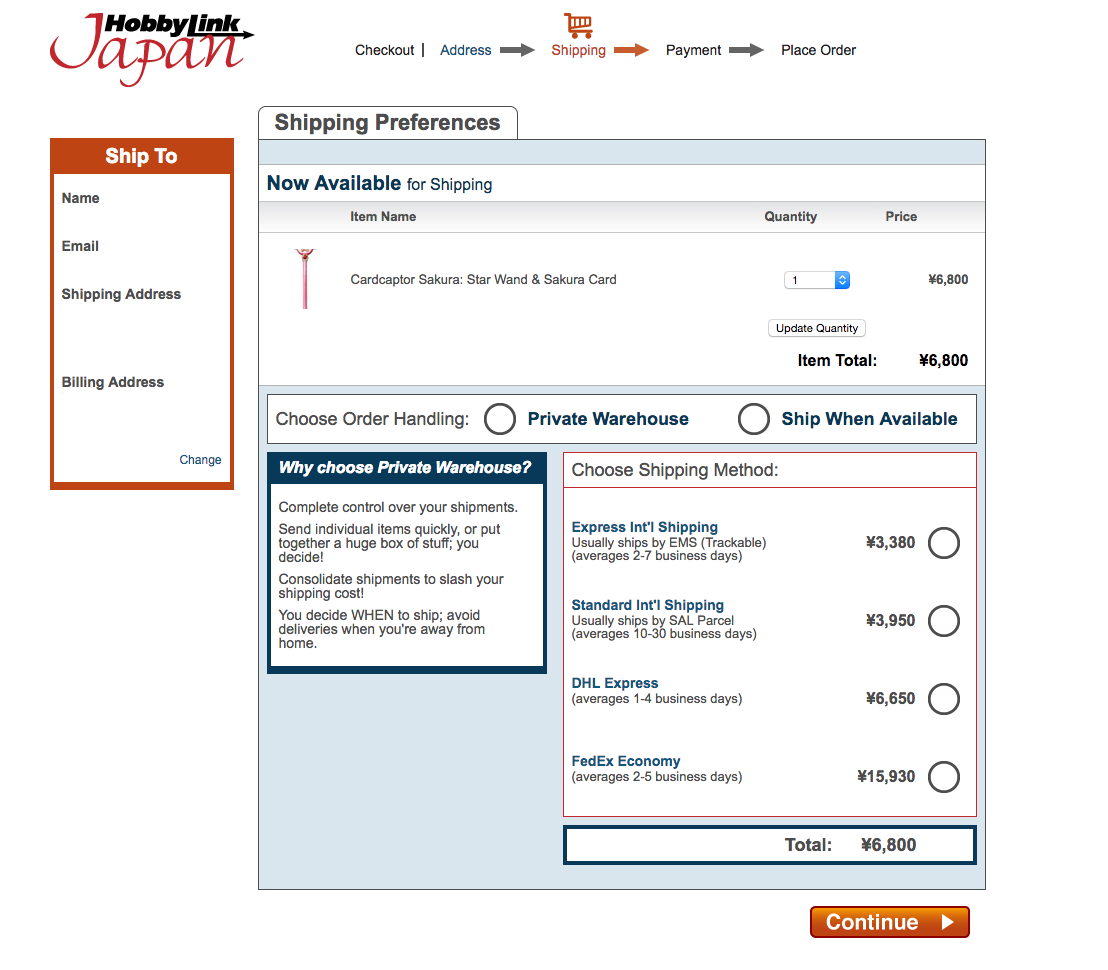 On this page, your order is separated into items that are currently in stock (shippable items), and items that are preorders or waiting for stock (non-shippable items).
Choose an order handling method for your order, either Ship Now or Private Warehouse. If your order is split, you will need to choose a handling method for both parts of your order.
If you select Ship When Available (Ship Now), select your preferred shipping method.
Your personal details will be shown in the "Ship To" box on the left. Confirm that this information is up-to-date before continuing. You can click "Change" at the bottom to update any inaccurate details.
Once you've confirmed your account and order details, click
Continue
.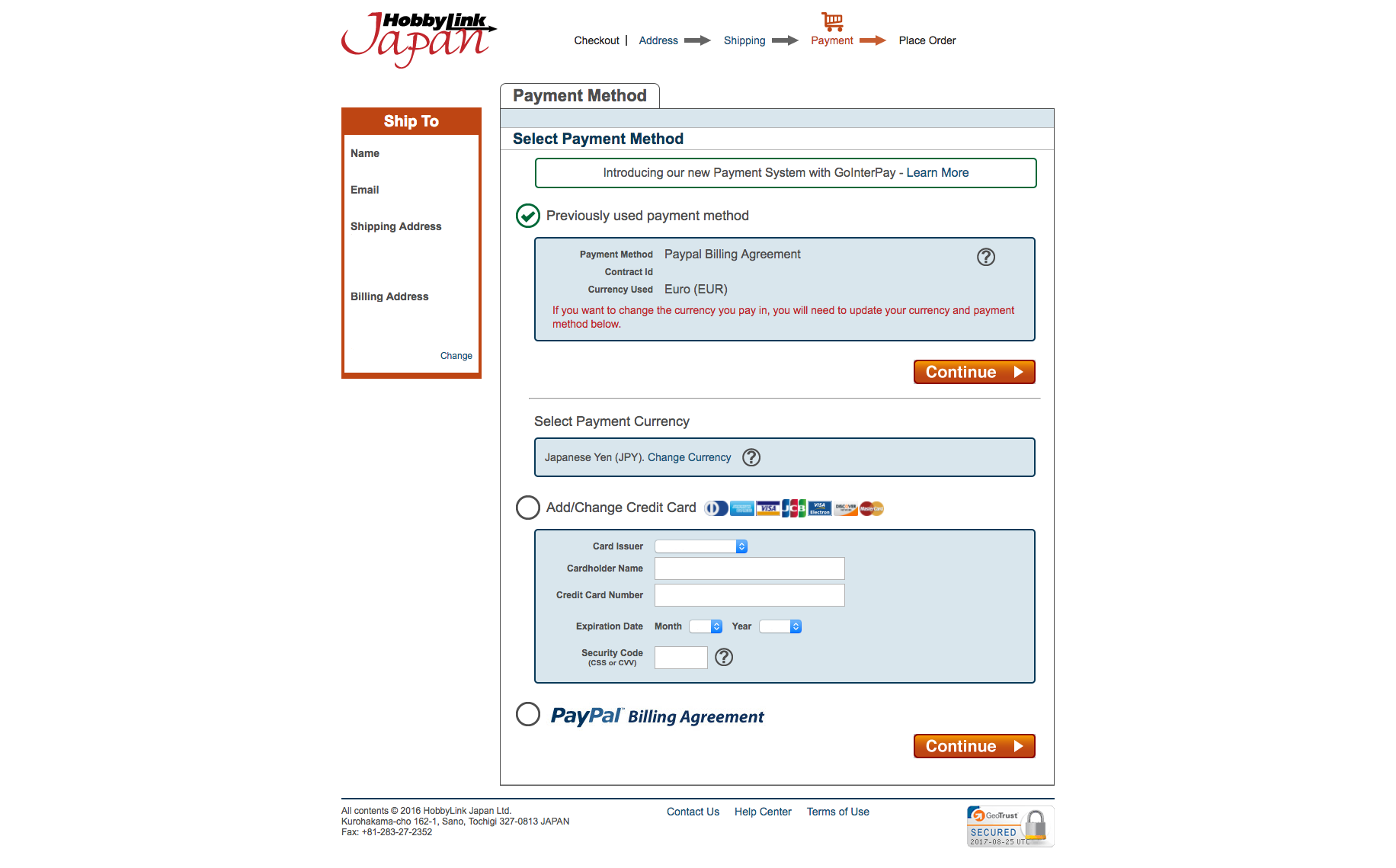 On this page, choose your preferred payment method. The payment method you select here will apply to all future payments in your account. Payment methods are account-specific, not order-specific. If you need to change your payment method again later, you can do so from your My Account page.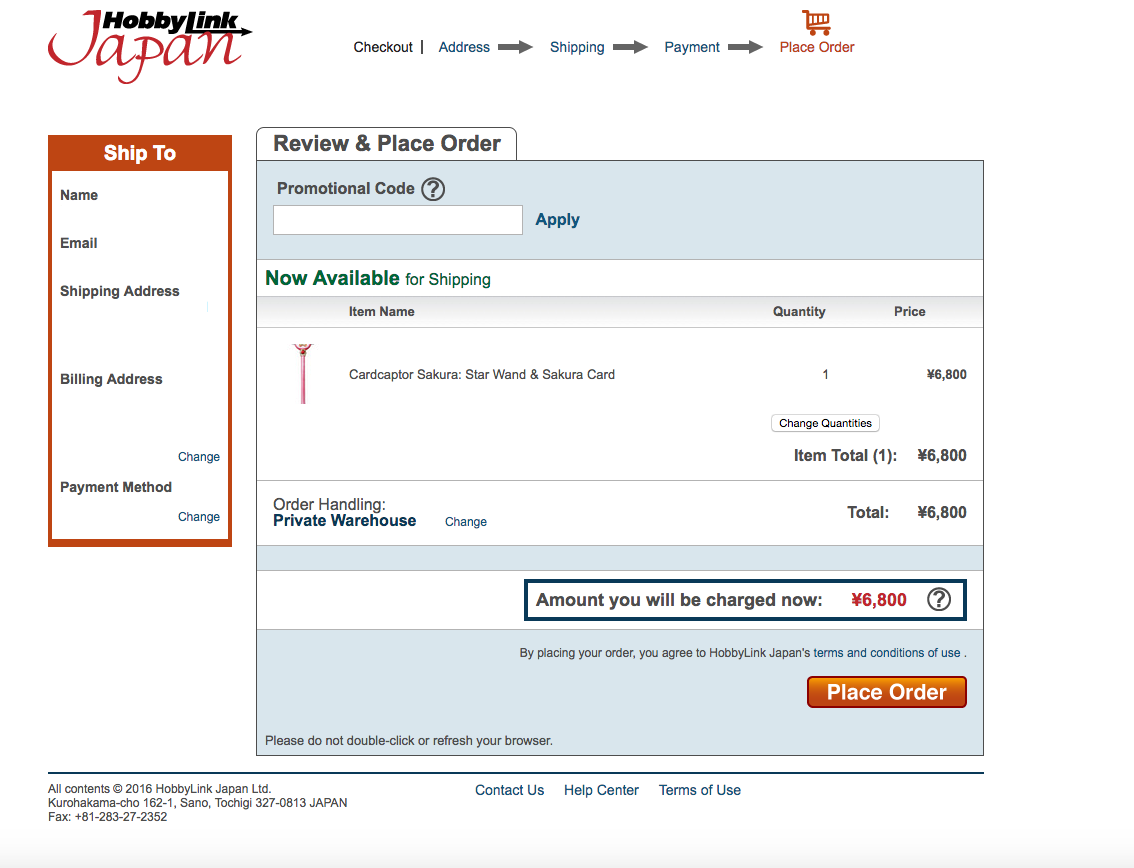 On this page, your full order details are shown. Carefully review your order, and make any necessary changes. Your order will not be received until you click the Place Order button.
Because payments are processed within 24 hours for in-stock items, it's important to make sure your order is correct before clicking the Place Order button. If you need to make changes to an order after it's been placed, limited options are available, so we urge you to first check and double-check your order details before clicking the Place Order button.
When you're ready, click Place Order to complete your order. Do not click the button more than once or you may accidentally place your order twice.
7. Thank you for your order!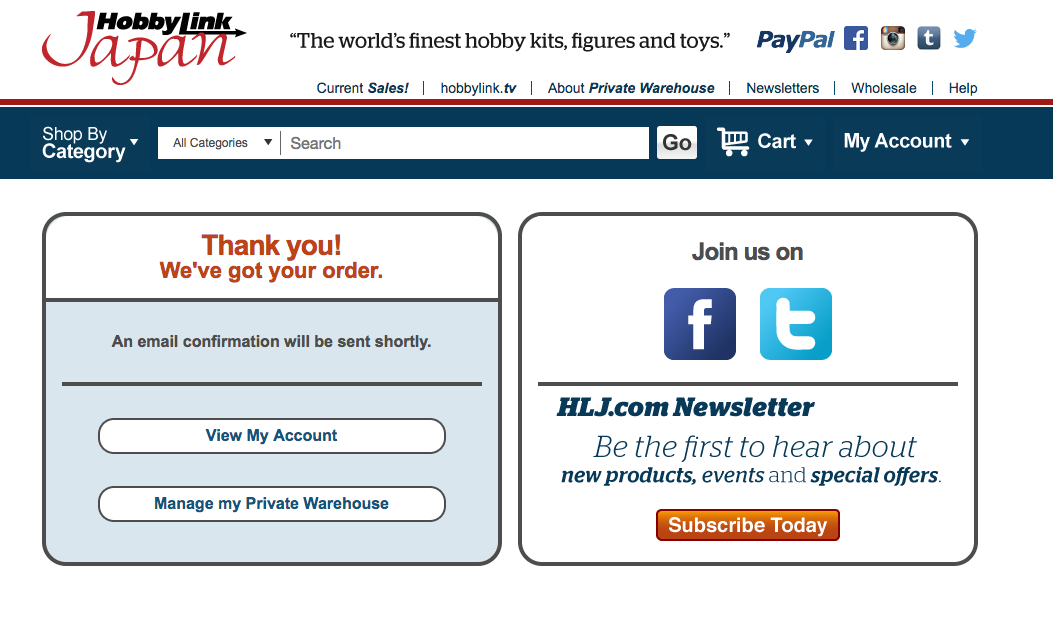 At this point, we have received your order. Your order will not appear in your HLJ account right away; please allow us a few minutes to process your order. We will send an Order Confirmation to you by email once your order is in our system. At that point, your order will also appear in your account.
New customers: You will receive a Welcome to HobbyLink Japan email once we have processed your new account. Until then, you might not be able to log in. Once you receive your welcome message, your account is active and you can log in.
If you don't see this screen after clicking the Place Order button, it's possible that we did not receive your order. This can sometimes happen due to unreliable internet connections or browser plug-in conflicts. Please wait to receive an order email from us. If you do not receive an email within 1-2 hours, you may want to contact us to check on your order.