Placing an order at HLJ is easy! Just placing your first order should be enough to understand the process, but if you'd like to know more first, here's an outline of what to expect:
To add an item in our product catalog to your cart, click the Add to Cart button that you'll see on the product's page. When you've selected your final item, click the Checkout button in your shopping cart to confirm your purchases, and then proceed to the checkout page and follow the instructions.
Items placed in the Shopping Cart are not held for you. An order is not placed until you complete the checkout process. Items only remain in the Shopping Cart for about 24 hours, and may be removed from the Shopping Cart as stock status changes. This will be reflected once you click "Checkout." 
Please note that HLJ does not accept orders by postal mail or fax. Please place your orders through our website, http://www.hlj.com.
Click "Checkout" in your shopping cart.
1.  Once you've loaded your shopping cart with all the goodies that you want (by clicking Add to Cart on the item pages), click the Checkout button in your shopping cart. This will start the checkout process and take you to the first page in the checkout system (the "Sign In" page). Here you will find login options for existing customers and first-time customers. Existing customers simply need to input the e-mail address with which the account was created, and their password. A successful login will take existing customers directly to #3 as described on this page. New customers will be taken to #2, as described below.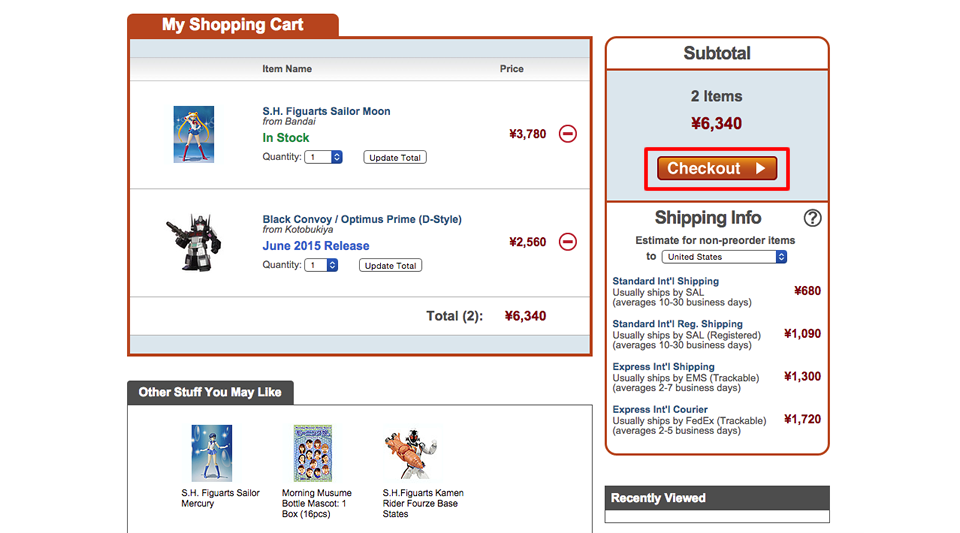 At Checkout: Create Account Information (for new customers)
2.  If you are a new customer, this is where you register your name, email address, shipping address, and other information. After you enter that information (you will be prompted if there are any omissions), click Continue.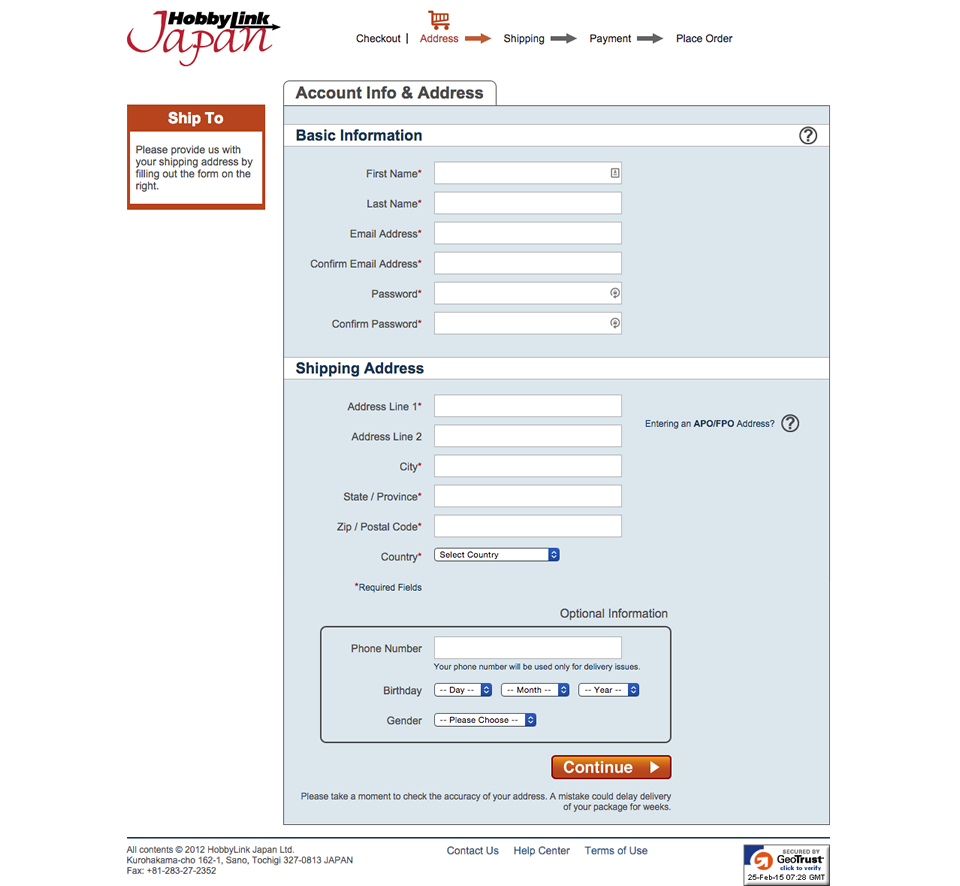 Shipping Preferences
3.  From this point on, the checkout procedure is the same for both new and existing customers. On this page you will see your order separated into items that are currently in stock (shippable items), and items that are preorders or waiting for restock (non-shippable items).

Please choose an order handling method for your order, either Ship Now (the button is actually labeled "Ship When Available" to cover both in stock and not currently in stock items) or Private Warehouse for both categories of items.
If you select Ship Now, please also select your preferred shipping method. There are no default settings here; you have to choose the shipping method you want for each order. Once all necessary choices are made on this page (you will be prompted if there are any omissions), click Continue. At this point in the process you will see shipping charges when available.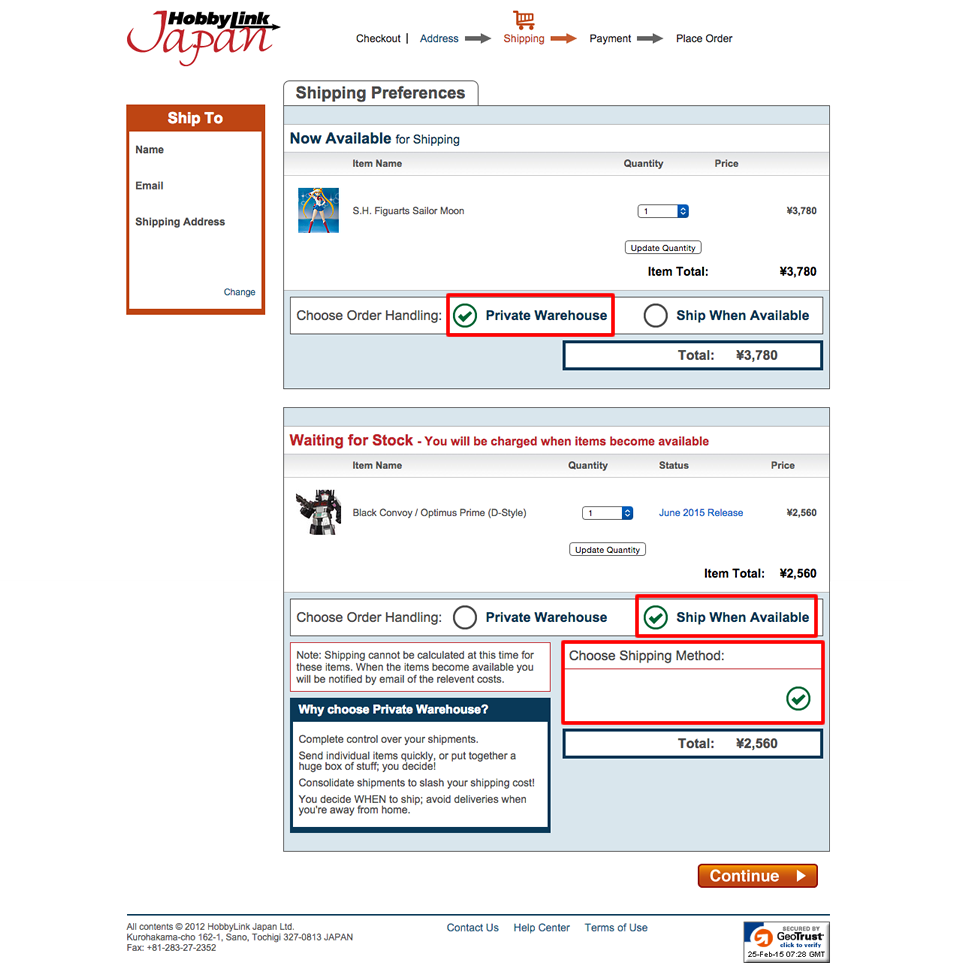 Select Payment Method
4.  On this page, please choose to either pay by PayPal Billing Agreement, or to checkout with PayPal or a credit card when your order is ready. Again, there are no default settings here; you will actively have to choose what you want per order. For Private Warehouse items or preorder/restock items, you can change the payment method anytime up until the items enter payment processing.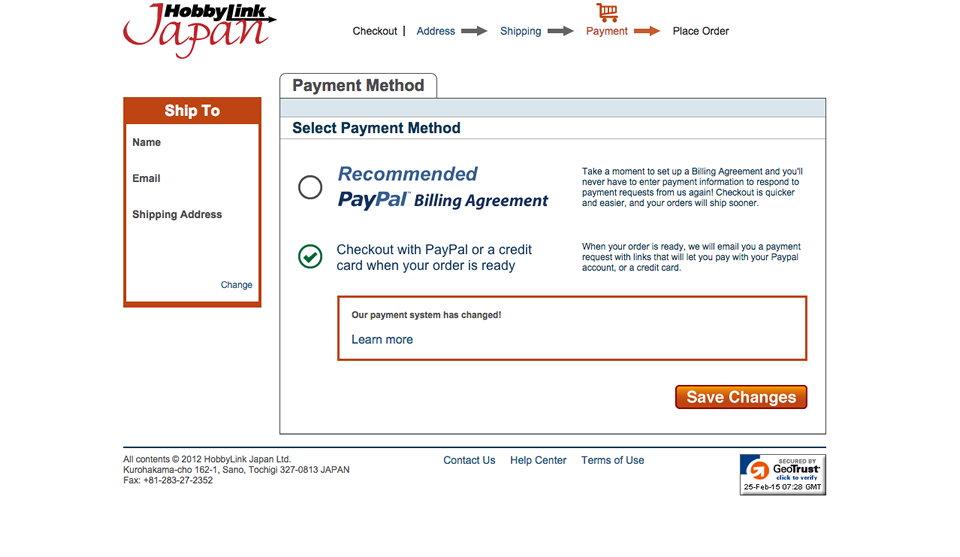 Review & Place Order
5.  On this page you can see an overview of your order, with the options to make any changes you want. If everything is how you want it, click Place Order to submit the order. Please be sure that the order is set how you want it before you click this button, since orders are processed almost instantly! For items you selected to be moved to your Private Warehouse, you can do what you want with them later, but for in-stock items you have chosen to Ship Now, the process starts right away, and cannot be changed. Check and double-check before you click that Place Order button!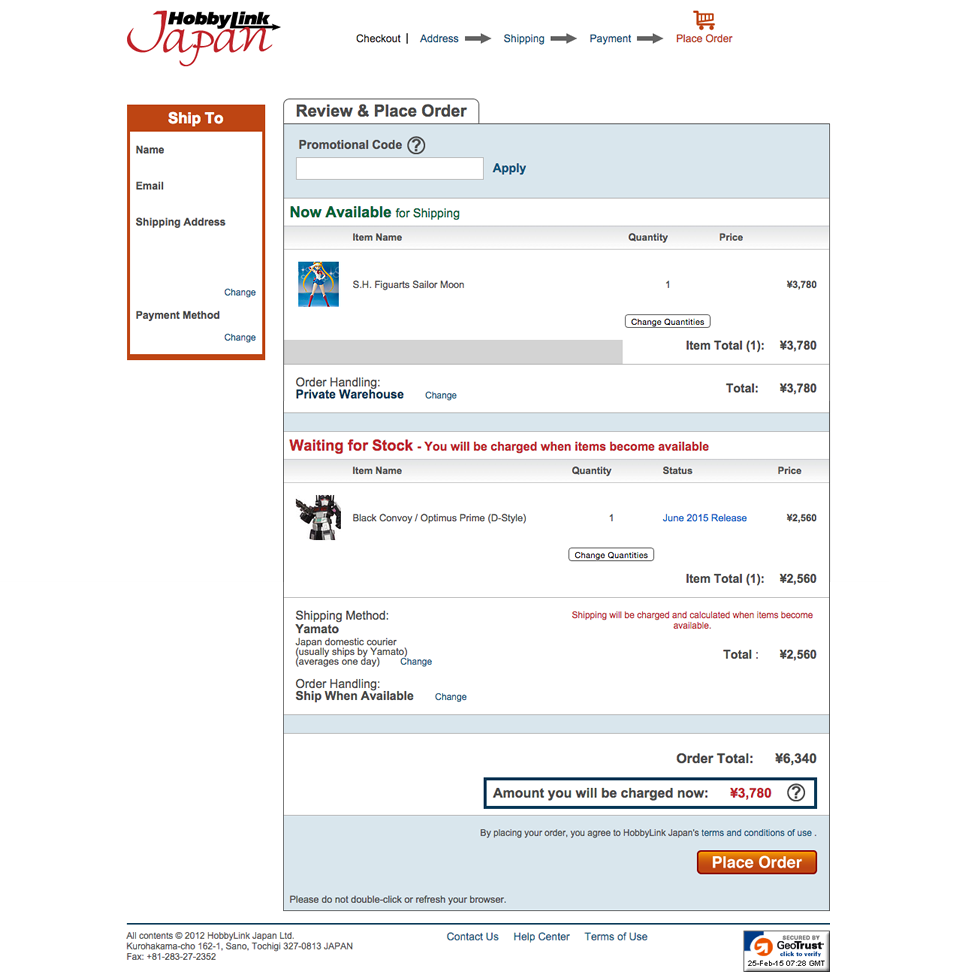 The "Thank You" Screen 
6.  Once you have clicked the Place Order button, the order begins to be processed. From this page, you have the options to either return to the website to continue shopping, review your orders and account information in the Account Maintenance System, or visit your Private Warehouse. Please note that you will not be able to modify any orders for in-stock items that were chosen as Ship Now. You can, however, modify any preorders and items waiting for restock up until the time they enter payment processing, and of course you can do anything you like with the items in your Private Warehouse.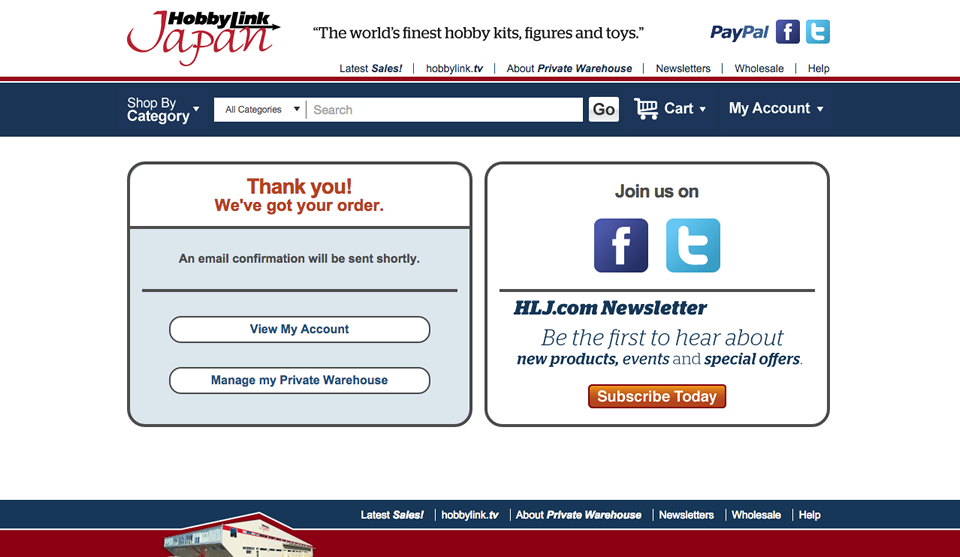 And that's the ordering process! When your order is confirmed (which doesn't always happen instantly; if site traffic is heavy, it may take a little time), you will receive an order confirmation email, and new customers will also receive their account number and password. Please note that all the above takes place in a completely secure environment; your data cannot be stolen or leaked. You can shop with confidence at HLJ! 
Please be sure to check your email account for any update or warning emails we may send you. If there are any problems with receiving your payment for an order, we will contact you right way to get the problem resolved. If we do not hear back from you and cannot receive payment for an order within seven days, that order as well as all your outstanding orders will be cancelled and your ordering privileges suspended (your account and any related accounts will be locked) until we hear from you. So, please be sure to check your email! 
We hope you have an enjoyable shopping experience at HLJ! If you have any questions, please contact us.